Unlocking the Mysteries of Dichroic Color
Unlocking the mysteries of dichroic color
Color holds me captive. It grabs me in a way that I crave no release. I am in love with my captor.
Since 1979, I have been a captive of color and it's co-conspirator, light. It happened when I encountered stained glass up close and personal. When I later discovered dichroic glass, I knew I was in for life.
So what is this magical, irresistible substance, dichroic color? It is more than just a substance, it is the interplay of light on color in three dimensions. It is the effect of looking through color and seeing both the reflection and transmission of color at the same time. In the case of dichroic color on glass, it is the shifting of color and seeing two colors in the same object as it reacts to the angle of light.
This seems like rocket science but is actually a natural occurrence. What child does not delight in the iridescent rainbows that flow around the thin skin of bubbles? We can find shifting colors of the rainbow in the oil sheen of a puddle or on a delicate butterfly wing.
The secret is thinness. The magic can be discovered in the micro-molecular thinness of color and colors overlaid to produce a stunning visual effect. It holds the attention and mesmerizes the viewer's eye by shifting and shifting its quality and character like no chimera can. The impact of this amazing kind of color mixes science, mythology, nature and perhaps a bit of magic to create a visual wonder.
Below, you can see some nice examples of dichroic glass as well as creative works by artisans who capture brilliant color in the fullest sense, dichroic or not.
Blue dichroic lamp work bead by Charlotte Hayes of Covergirlbeads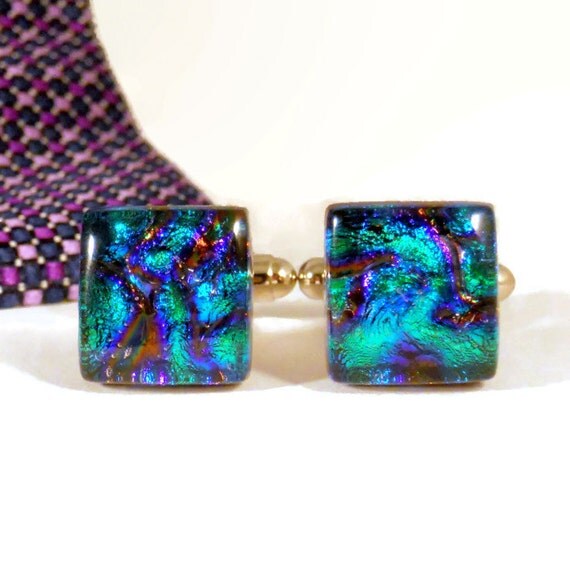 Dichroic cufflinks by Kellie Resetar of Resetar Glass Art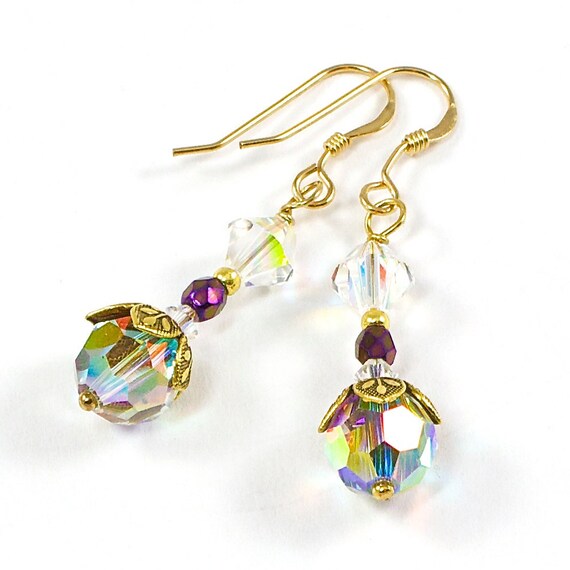 Swarovski crystal earrings by Barbara Len of SolanaKaiDesigns
Lamp work glass bracelet by Nancy Tonelli of Jazz it up With Designs by Nancy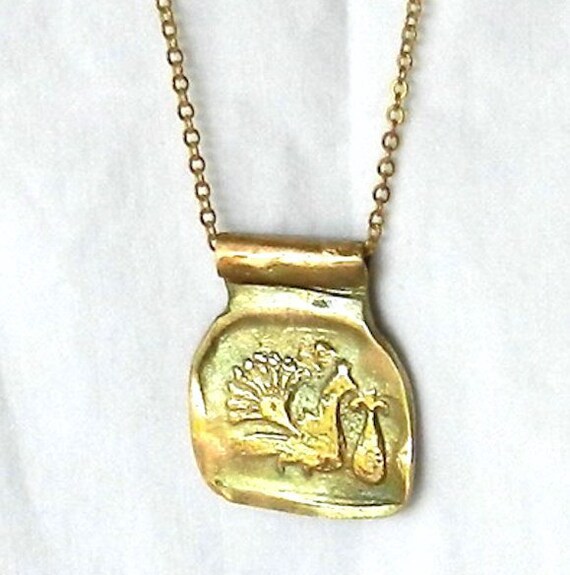 Forged bronze pendant by Anna Garner of PollyCeramica
Beaded lanyard bracelet by Mary Beth Johnson of the Twisted Red Head
Beaded Necklace by Kathy Launiu of KatsAllThat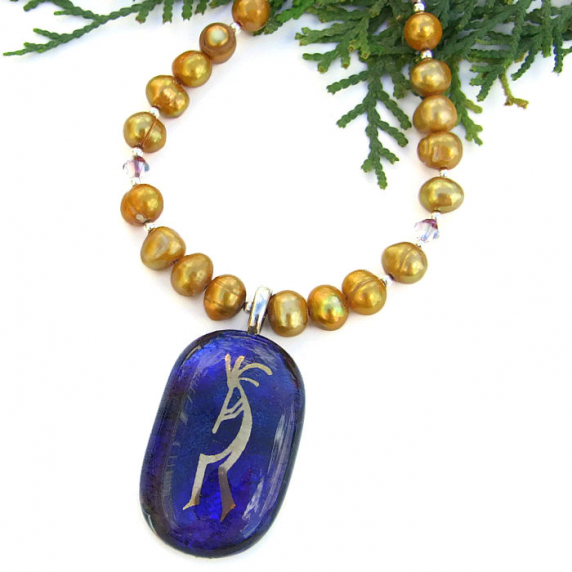 Kokopeli dichroic glass pendant by Catherine Waterhouse of ShadowDogDesigns
Dichroic glass pendant by Jo Perez of Umeboshi Jewelry Designs